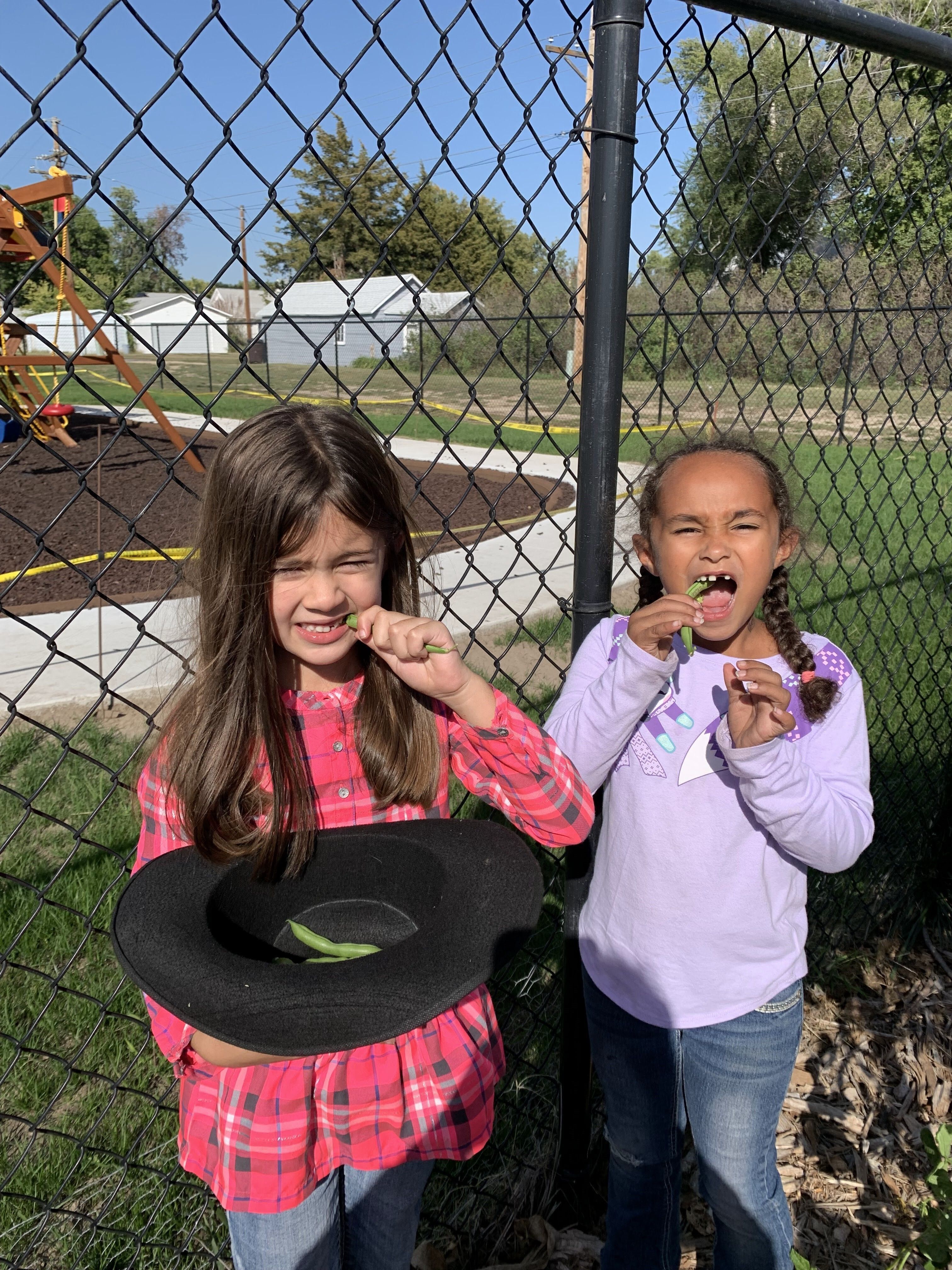 Here's a sentence you wouldn't expect to hear in an early childhood setting: "The kids' favorite thing is kohlrabi. 'The weird potatoes,' they call them." It is, nonetheless, what The Valley Child Development Center's Executive Director Beth Fischer says of the children who attend the program. She goes on to add, "It's nothing to see these kids walking with a green pepper while picking tomatoes, and they just eat it raw. They'll eat raw green beans, cucumbers. They love it!"
The Valley Child Development Center opened in the farming community of Red Cloud in 2018. The Center quickly found a niche when a board member's niece, Bri and her husband Bruce, who lived in California, learned of the Edible Schoolyard, a program developed by food activist and chef Alice Waters to offer "students experiential learning opportunities that deepen their relationship with food, facilitate learning the skills of cooking and gardening" (edibleschoolyard.org). The local community in Red Cloud, which had a long tradition of family farming, found itself in a period where that tradition was dying. The Edible Schoolyard then appealed to locals, particularly grandparents who had grown up eating fresh locally sourced produce and whose grandchildren now attended The Valley Child Development Center.
The idea was so appealing that Bruce and Bri Nelson paid for two staff members to visit Berkeley and train for a week on implementing such a program. This allowed The Valley Child Development Center to turn the Edible Schoolyard into an outdoor classroom, a garden where children learn a lifelong skill and get to enjoy the results. Fischer explains that "the children do everything—with supervision. They pull the weeds, they water, they harvest. It's their project." Just some of the skills she lists that children develop are gross and fine motor skills, independent decision making, speech and language skills (particularly in learning new terms and the extended vocabulary of gardening), cognitive skills such as counting and measuring, and social emotional skills. In addition, she points out, there are significant mental health and wellness benefits to the time they spend outside.
The gardening program, which is fully funded by board members Bruce and Bri Nelson, begins each year in January when the children plant seeds at the indoor greenhouse. They then move sprouts to an outdoor greenhouse around Easter, topped off eventually by a planting day and a direct sowing day. Fischer describes the children's excitement in January when the seeds they've planted start sprouting, and said that "seeing the joy in the kids was like, 'wow," what if we could do this all year round?"
It was thus a certainty when Cindy Ryman-Yost, the Center's grant writer, found an opportunity to apply for a Children's Hospital of Nebraska grant that The Valley Child Development Center would submit under the category of "food insecurity." Long ago, the Center's Board of Directors had "made a conscious decision to ensure that income would not be a barrier to enrollment," that they would have no caps on subsidy students or scholarships provided. In addition, they were one of the only centers within a 60-mile radius to accept children with severe special needs.
And when it came to food insecurity, The Valley had already been serving the community in this capacity. Of the 62 full-time students at the center, 51% were either subsidy children, on Communities for Kids scholarships, or were Sixpence funded. Most or all of these children were on reduced or free lunch programs. Additionally, in an anonymous survey conducted by the center, it was revealed that 25% of the families enrolled had felt some level of food insecurity. As part of their garden project, The Valley used vegetables they grew on the premises not only to feed the children, but also provided them on a stand for families to take home free of charge.
In June of 2023, The Valley learned that their submission, "Growing Healthy Kids by Growing Healthy Food," had been awarded a $25,000 grant to help them plant fruit trees to further expand the produce they could offer children and families, to build a garden shed to house their materials and tools, and, most of all, to build an aquaponic tower garden inside their facility that would provide them the answer to the "wow" dream of allowing children to garden year-round.
The Valley immediately went to work, inviting the 3- and 4-year-olds to help build the tower. Fischer says, "They were hands on. We were picking them up and they were putting the rungs on. They got to plant the seeds." The result is a soilless aquaponic system with grow lights and constant flow of enriched water that provides the plants the nutrition they need. Fischer says they are already growing kale, arugula, bib lettuce, and other greens.
Since receiving the grant, The Valley wanted to measure the outcome of their efforts and so they began weighing produce and distribution for the year. The annual output was 237 pounds of produce and 128 ears of corn (not counting the herbs they also grow). Of the amount, 115 pounds were fed to children on site, another 100 pounds went home to families, and the remaining 22 pounds was sold at market—Fischer notes that this is on an honor system where families who can't afford to pay can take whatever food they need.
But this project goes beyond teaching children to garden; it goes beyond the developmental and social skills they learn; it even goes beyond the admirable work toward easing situations of food insecurity in their community. The Valley Child Development Center's now year-round garden project is a cultural ground swell. In addition to providing their own produce, Valley purchased a locally soured pig and cow and had them processed. Fischer says that Tammy, their dietary technician, prepares fun healthy foods and that they don't serve juice, add extra sugar to food, and they don't salt anything. Children are thus receiving a valuable education in healthy eating. But they also receive a cultural education. According to Fischer, they included a whole week on food cultures this past year and a Beyond School Bells grant allowed them to provide each child with a sushi making kit. The children took those kits home and parents made sushi with them. The outcome was that parents reported though many had never tried sushi, they actually liked it.
It's an unintended outcome, but one that is impacting the community. Fischer says, "I think it might help promote getting past, kind of, that fear of food that people have as adults who didn't try things as kids. We're slowly chipping away at the parents through the kids." As part of this process, they made a cookbook this past winter complete with recipes for some of the kids' favorite dishes along with their illustrations and their highlight directions such as "put it in the oven and take it out." In the coming year, they plan to have recipe cards available for families that provide directions for whatever produce is in season and available on the center food cart.
The end result is that The Valley Child Development Center has become a "model for providing high quality child development and early intervention services in rural communities" where they've created a niche connected to healthy eating and to overcoming food insecurity. Perhaps that's why Fischer gives 50+ tours of the facility a year and is inevitably asked by visitors when they can see the garden. Now that's some weird potatoes, ones that you can cook up and the kids will love.