Communities with a robust network of quality child care providers have a distinct social, educational and economic advantage. When quality child care programs thrive, they create a stronger support system for local families, enhance the early learning experiences of young children and create employment opportunity for early childhood professionals and others throughout the community.
---
Location of Sixpence Grantees by Type as of 2022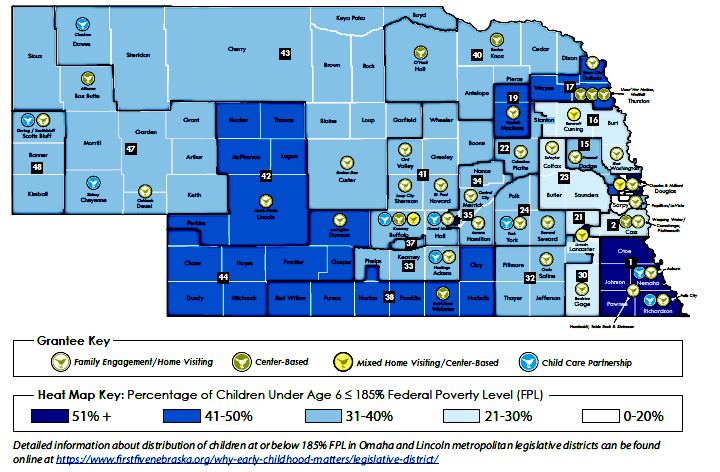 Sixpence has partnered with 43 communities across Nebraska and continues to build strong connections with early families, early childhood professionals, and local leaders in new areas of the state. To see the community contacts please click on the link below.
---
Community Connections
Connecting to Empower Parents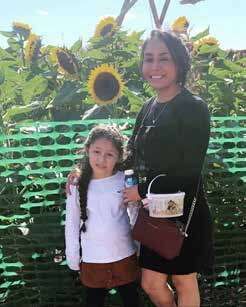 When Daisy Ortiz (Crete, NE) discovered she was pregnant at age 16, she faced an onslaught of anxieties—that she would end up a single parent without a career, cut off from sources of meaningful support. Fortunately, Daisy had a support network in her own parents and husband, which motivated to make the most of these advantages to complete her high-school education and then pursue a postsecondary degree in Psychology.
Even so, Daisy and her young daughter faced significant challenges. Evening classes and heavy amounts of coursework at UNL meant that she needed additional supports to meet her educational and career goals. She became a participant in a Sixpence family engagement program and was paired with a home visiting specialist who knew from direct experience the challenges Daisy was up against. Sixpence provided Daisy with parenting guidance and even connected her to child care, making it possible for her to begin planning for the next phase in her path as a successful parent and provider for her young family. Daisy became an employee of a Sixpence-funded program, using her insight and experience to help motivate other young mothers to reach their potential. In time, however, she was ready to move forward and begin her education to become a registered nurse.
Sixpence helped Daisy grow as a capable parent and encouraged her in her career path to become not only a better provider and caregiver for her daughter, but also an example for what parenting supports and motivation can do.
At the beginning of the 2021-22 evaluation year, 423 Sixpence mothers entered Sixpence without a high school diploma. By spring of 2022:
46% Had earned their high school diploma or GED

20% Were still enrolled in high school or working toward their GED
Connecting to Help Families Prepare Children to Thrive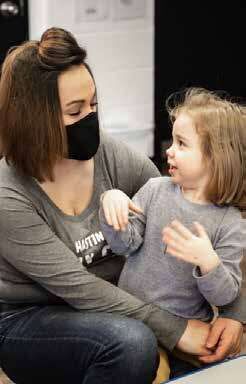 Andrea Monroy began receiving prenatal services through Schuyler's Sixpence program while she was expecting triplets. After her children were born, Andrea
began to see the full range of physical, cognitive and social benefits her participation in Sixpence could bring. Working with program staff helped Andrea encourage her children's motor skills, balance and coordination, as well as their ability to communicate and sense of self-esteem in activities both inside and outside the home.
All too often, the challenge of raising young children can leave parents feeling isolated from broader networks of support in their communities. One of the biggest
impacts on Andrea's life was how Sixpence enabled her to discover local resources and opportunities for her children to learn different skills and develop their strengths, while enabling her family to connect socially with others. Even so, Andrea values the fact that Sixpence-funded programs like the one she participated in still acknowledge and respect her family's autonomy and security. Ultimately, home visiting and other services funded by Sixpence exist to reinforce the values and priorities families have for their youngest children--by keeping parents front-and-center in their role as educators and caregivers.
Between 2021 and 2022, 305 Sixpence were evaluated on whether they met or exceeded developmental expectations. In the one-year period higher percentages of children met or exceeded expectations in all developmental categories then before starting Sixpence. Results revealed:
Cognitive milestone increase from 81% of children to 96%

Physical milestone increase from 84% of children to 95%

Social emotional milestone increase from 78% of children to 93%

Literacy milestone increase from 72% of children to 92%

Math milestone increase from 63% of children to 91%

Language milestone increase from 69% of children to 90%