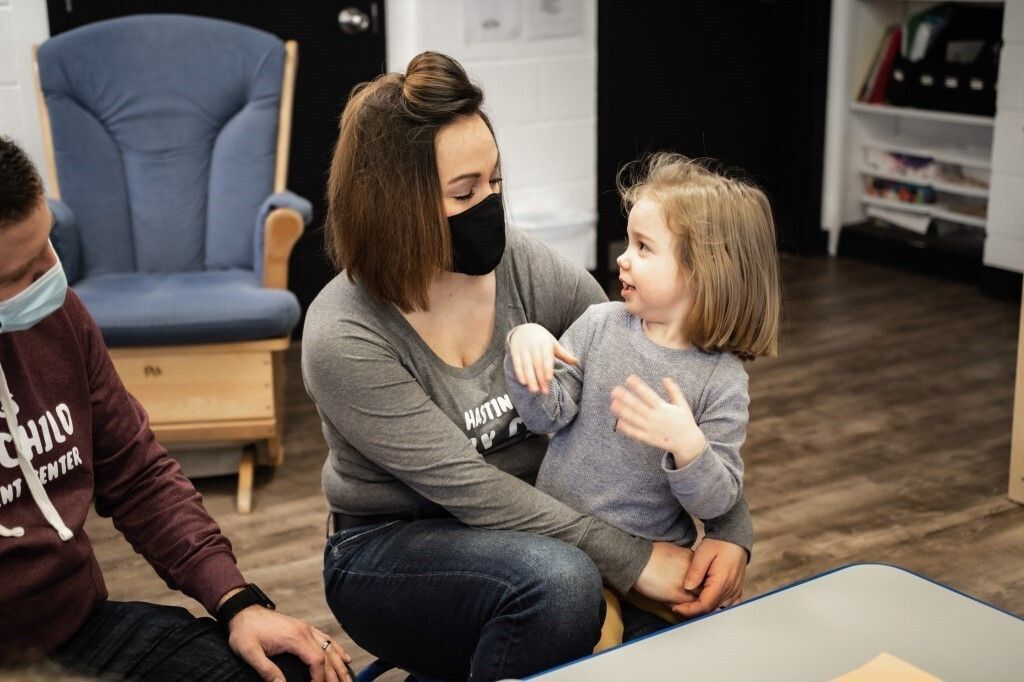 If you want to open a childcare center at the start of a global pandemic, you can refer to Kyla Habrock and Nebraska Children and Families Foundation's Sixpence Child Care Partnership Program (Sixpence CCP) with Hastings Public Schools.  
But don't stop there – as an organization that creates positive change through community engagement, we envision as many people as possible getting involved.  
Although the most rewarding things in life can be challenging to obtain, Kyla's creativity and a Sixpence Child Care Partnership helped her arrive her where she needs to be! Here she is with her daughter.
When Kyla and her husband planned to open a childcare center, they knew they were capable. They also knew that their educational background wasn't in early childhood education, so they needed to remain innovative and collaborative.  
Nonetheless, they are now the proud owners of Hastings Early Child Development Center.
"We had lots of challenges," said Kyla. "When we started, we planned to own the building and be a really good landlord to the provider."  
In September 2019, Kyla said that she and her husband envisioned joining forces with a local, nonprofit childcare provider. Kyla and her husband would serve as landlords.  
With a plan, location, and partner in place, Kyla said she was ready to open the center's doors. Then, in March 2020, those same doors swung shut just as fast.  
"When COVID happened, the [potential] nonprofit [and provider] pulled out," said Kyla.  
If you're happy and you know it…jump for joy! Kyla and her husband knew that their networking talents and Sixpence CCP could create the perfect childcare center for infants and toddlers.
Kyla said that although some people hoped that by July 2020, COVID would be gone, of course, it wasn't. Finally, Kyla and her husband tried a new plan of action. 
"In June, we formed a [limited liability corporation] and started to build an amazing team," said Kyla.  
Kyla said that when the plan to partner fell through, she and her husband pivoted again. "We thought maybe WE could be the providers," said Kyla. "Even though we don't have a background in childcare, we have other skills and strengths," she said.  
Kyla took her bachelor's degree in agricultural journalism from the University of Nebraska-Lincoln, then a master's degree from the University of Nebraska Omaha in nonprofit management.  
Work with Sixpence CCP to Maximize Quality 
From there, things became easier as Kyla involved the community and participated in Sixpence's supports. Created in 2015, Sixpence CCP is a collaborative effort between school districts and licensed childcare programs with infants and toddlers to implement Step Up to Quality and reach step three within three years of signing their agreement letter. These combined efforts bring up the quality in childcare centers for children birth to three. 
This initiative leverages federal Child Care Development Funds to enhance the programs' quality. Providers like Kyla who participate in Sixpence Child Care Partnership Programs enjoy professional development opportunities and, weekly coaching sessions that help providers recognize and improve the quality of their infant and toddler care. 
Kyla said that she recruited her staff by taking them out, warmly and informally, for pizza and beer, then discussing quality childcare.
During the pandemic, Sixpence Child Care Partnership Program funds were able to support and provide masks, cleaning supplies, and scholarship funds for families that were affected financially during COVID. Other resources included virtual coaching and training and assistance in applying for CARES act funding and other grant opportunities. 
Throughout weekly coaching sessions, Sixpence Child Care Partnership Coaches can work together to set goals and make purchases based on the findings of their Infant Toddler Environmental Rating Scale (ITERS). Coaches also support providers' work with Nebraska Department of Education's Step Up to Quality initiative. 
"Through [Sixpence and Hastings Public Schools Child Care Partnership Program], we were gifted a tremendous amount of generosity such as cleaning supplies and face masks; we're really really thankful," she said.    
Kyla said that Sixpence CCP helped her new center put its best foot forward.    
"I can't describe the godsend [Sixpence CCP] was," she said. Kyla said that through Sixpence CCP's coaching and goal setting, her center was able to purchase furniture and developmentally appropriate materials for infants and toddlers.  
"They were top-notch, the best! So, when we did open as an unknown business, families got to see the best things available." 
Sixpence CCP responds to providers' needs by allowing the center to purchase developmentally-appropriate materials for infants and toddlers.
Kyla said that she's thankful for Sixpence CCP's goal setting and coaching in purchasing items that emphasize her center's quality.  
"It has been out of this world!" she said.  
As Kyla and her spouse reviewed their previous plan to function as a nonprofit childcare center, they suddenly saw the roadblocks that could have arisen.  
"When it didn't work out with the nonprofit provider, we realized organizing as a nonprofit could limit us. As a start-up, we're moving fast. Being accountable to a [nonprofit] board might be difficult. So, we organized as a for-profit and built our business," she said. "I don't have [the childcare] skills to put on a resume, but I'm really good at coffee and lunches. I listen and do the thing. I am a doer. We're doing it!" 
From there, Kyla utilized her networking skills to build out her dream team.  
Leverage Your Skills…and Your Community 
Kyla possesses skills that tie back to our mission – to create positive change through community engagement. She's a talented networker who enjoys collaborating with her community. Her husband works in agriculture at a John Deere dealership. 
"He has great leadership and management skills," said Kyla. "He's worked in state government and understands how [state] agencies work."  
During a child's first three years, she forms countless neural connections, which pave the way for kindergarten-readiness. Sixpence CCP can help providers to ensure quality care for infants and toddlers during this crucial time.
Kyla said her husband shares her ability to connect with others.  
"We're good at networking; we know a little about a lot," she said.  
"One woman we met for pizza and beer was a childcare provider in her home. She had previously been [and stopped] serving families who then wanted to be a part [of our new center], said Kyla. "After four years, she closed her business, and she became our director!"  
Kyla said she prefers a friendly, informal approach to collaborating with her fellow community members. "We have conversations, not interviews," she said.  
From there, finding families to serve was no problem. Kyla said that the provider-turned-director of her center was happy to refer all the of the families she'd served to Kyla's new center.  
"So, we hit the ground running with 12 children!" said Kyla. "Another [one of our childcare] teachers coaches softball, and she brought another part-time teacher!"  
Paint the Big Picture: WHY Childcare IS Important 
Kyla continues to dream big and do bigger with community tours of her new center.  
"Our community tours started conversations to support children in filling the gaps that state pay…doesn't cover," she said.  
Kyla said that from there, she and her potential partners are still strategizing.  
"We might begin a donor-advised fund," said Kyla, "With someone saying, 'I believe in this, I pledge, say, $5,000 per year." 
Kyla said she continues to involve her community in a strategic way.  
"We didn't have an open house; we had a community tour. It wasn't just to see the room, bright paint, and new windows. There was some of that, but it was really for us to educate a larger part of our community about early childhood education, and not just our center," said Kyla.  
Developmentally engaged infants and toddlers are kindergarten-ready AND more likely to thrive throughout their lives!
Kyla said that throughout her tours, she shares the hot-button issues concerning childcare and education.  
"We talked about challenges of staff retention, recruitment, hours of operation, and the cost," said Kyla. "We didn't want to be self-serving. From that, we've had other groups like Kiwanis who want to go through the building for a monthly meeting, and want to see the transformation!"  
Roll with the Punches…and Ask for Help 
For the next several months, however, the center continued to meet challenges. 
Kyla said, "June 2020 through February 2021, we went through the renovation process. Contractors ran into problems, sometimes COVID-related; sometimes not. We ran through so many [contractors] to just bid on our projects. We didn't foresee that variable. We thought there were plenty of electricians and plumbers; that's not the case!"   
Although Kyla had ordered appliances in November, but were on backorder until March, they never arrived, including her stove. She said that her parents lent her their kitchen stove to use. Still, as Kyla drew closer to the opening day, more problems arose, but she remained agile.  
"The day before we opened, we had a gas leak and had to replace the furnace; next to drama is comedy!" she said.  
Kyla said that the building passed the inspection, thanks to some great service providers who replaced the furnace on the same day.  
Given these unforeseen setbacks, the center still opened eight weeks late. Kyla said that she'd employed her teachers with salaries and benefits without the center generating income.  
This was another instance where Sixpence CCP came into play.  
"Had it not been for [Sixpence CCP] and a start-up grant from the Nebraska Department of Health and Human Services, we would have been in a tough position," she said.  
"I can't even begin to adequately express my gratitude for [Hastings Public Schools Sixpence Childcare Partnership Program] because we could match the highest quality of our teachers' potential with the highest quality of classroom materials. There's not a place that compares with our teachers' credentials, building construction, and classroom materials," said Kyla.  
Kyla is proof that community, Sixpence CCP, and her social talents can push through a global pandemic and into quality early care!
Kyla said that Sixpence CCP helped with cots, cribs, tables, chairs, books, and toys for infants and toddlers.  
"Look top to bottom in any room; there is the mark of Sixpence CCP in every piece of furniture, bins for toys, balls, outside play toys, gross motor development, and fine motor development equipment." 
Kyla also said that Sixpence CCP involves families with developmentally engaging activities, including reading.  
"Every child under three gets books from [Sixpence CCP]. It's really cool to engage families. It's a hands-on piece, and parents get to understand firsthand the importance of Sixpence!" said Kyla. 
"The coaching is the best thing we get out of [Sixpence CCP]. The books and furniture are essential; the coaching is invaluable," she said.  
"Our coach comes once a week to support the infant and toddler teachers. She has a bit of preschool interaction with three-year-olds. Even [using] the classroom layout, the coach discusses how to maximize learning in these four walls," said Kyla. "She helps us live up to the commitment to quality."