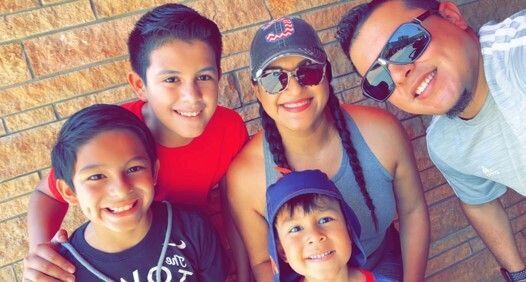 In some ways this story begins as a trip to school. Perla Jaimes describes walking with her mother and younger sister. She remembers it was dark; she remembers it was cold. And on the other end of this walk a new school waited. But we'll get to that.
The trip began in Campeche, Mexico, over 2,000 miles from the point where Perla and her family would start their walk. The walk itself was at night through the desert and took over 8 hours. Although she was just under 10 at the time, Perla can still vividly describe how the coyote (paid guide through the desert) warned her group to look down when helicopters flew overhead so that their eyes did not reflect the light. She remembers waiting in ditches as patrol vehicles passed nearby. Her sister, who was only 7 at the time, became so tired that a gentleman they didn't know had to carry her on his back.
They walked through the freezing night with only a backpack of belongings, and when Perla arrived in Arizona, she was covered with the Sonoran sandburs endemic to the desert. She fell asleep in the house where she waited for a brother, who already lived in the U. S., to arrive and pay the coyote the other half of his fee so that Perla, her mother, and sister could start their lives in a new place.
And the story could have ended here, when the brother took Perla to Denison, Iowa, to start school in a strange place where she didn't speak the language. Ended the way it does for some of the immigrants who brave the southern crossing of our border and are lost in a system underprepared to help them. But this is a story about a trip to school, and Perla's mother recognized something in her children. She told them, in fact, of the journey they made, "you guys were so bright. I knew I couldn't afford to pay for more schooling in our town (in Mexico)."
So when Perla stepped into that first American school in Denison, she didn't feel out of place. She wondered at the colored pencils and exclaimed of the immaculate hallway, "this is just beautiful." And although Perla said she "had the best ESL teacher in Denison," this is not the trip to school we're talking about.
In the four short months she spent in Denison between January and April of 2000, Perla learned enough English, as a matter of survival as she puts it, to act as interpreter for her mother. In April, then, when they moved to Crete, Nebraska, where jobs were available, Perla remembers walking her mother to a job interview at the Smithfield Foods processing plant, where she acted as interpreter. It was there that her 47-year-old mother would work on the "kill floor" until retirement. And it was in the Crete school system that Perla would make her mark as a high academic achiever and member of the National Honors Society.
It was also at Crete High School, that Perla's life again shifted dramatically. As a junior, she dreamed of becoming a teacher and was well-positioned academically to begin working toward that dream. But in the summer before her senior year, Perla learned that she was pregnant. In any normal situation, this knowledge would have been difficult for a young woman, but for Perla her position was made worse by the fact that she wasn't yet an American citizen. When Perla, her mother, and sister crossed into the U.S. undocumented, the law at the time had allowed for her brother, who was a citizen, to apply immediately for his mother to also earn citizenship, which would cover the two daughters as long as they were minors. But the process had been long and even 7 years later, citizenship had not been granted. That meant that this bright young woman who now found herself in a difficult situation, could not avail herself of many of the supports offered to citizens. Here then was Perla: a high school junior, pregnant, with a loving mother who wasn't a citizen, spoke little English, and did not know the American medical system or social support services system, and who spent 12 hours a day at bone-tiring work in a meat processing plant.
Again, the story could have ended there at Crete: a young pregnant woman with few supports and only the choice to give up her dream. But this is not the school of our story. Perla's high-school counselor knew of a relatively new program called Sixpence and introduced Perla to Stephanni Renn, who worked as a home visitor for the program.
While Perla put together a plan to take dual enrollment credits so she could graduate in December of her senior year, Sixpence began preparing her for her role as a mother. Perla emphasized that "everything that became available to me through Sixpence, I took advantage of." She had married her longtime boyfriend and father of her child Henry Sr. and said that even before the baby was born, Sixpence offered them training, such as infant CPR, that "made me feel better having an infant at home." She added after their son Henry Jr. was born, Sixpence provided "lots of sessions where they talked to us about what are age-appropriate activities you could be doing with your child."
Even while Perla adjusted to life with a new child and building a family, she continued to pursue her dream of becoming a teacher. She describes the early days when she attended classes at Southeast Community College because that was what she could afford. Since she was not yet a citizen, she couldn't apply for the financial aid that would allow her to attend a four-year university. Sixpence helped find placement for Henry Jr. at a childcare center in Crete so that she could attend morning classes. She would then pick her son up, attend to him, study, and wait for her husband to come home from his job at Smithfield Foods so that she could work night positions at places like Caseys.
During this challenging period, another problem arose. Perla's mother had not yet gained citizenship, and if she didn't before Perla turned 18, then Perla would have to start the process on her own from scratch. Rather than gamble, Perla decided to apply for citizenship through her husband, who was a U.S. citizen. It was Sixpence's Renn who wrote a letter affirming their marriage that helped her gain citizenship.
Perla says of those early years that she and Renn became very close and that she benefitted from having a person she knew she could go to for help: "I knew I could reach out to Steph (Renn) for anything I needed." Renn met with the family 3 times per week, one of those meetings being a support group for teen parents, where Perla and her then-boyfriend Henry met others in similar situations that created a community for them. Perla said that Renn would bring them small things like make up or games for Henry Jr. She also provided developmental activities to ensure Henry Jr. was on track. Even when Perla couldn't meet because of class or work, Henry Sr. kept the appointments to learn more and keep his son on track. When the family graduated from the program, Henry Jr. was on track to enter St. James Preschool in Crete. But Sixpence didn't just help Henry Jr. or the family, it helped Perla maintain her dream. When Perla became a citizen and applied to Doane University, Renn helped her fill out the FAFSA. It was Renn and Sixpence that guided her toward the Education Quest Scholarship that helped her pay for her schooling.
So we could say that this was the school where Perla finally arrived. But it's not. Yes, she got her B.A. in Teaching, Curriculum, and Instruction. Yes, she went on to earn a master's degree in Education. Yes, she went on to work with ESL students for 7 years. But the school of her arrival, the one that started in that desert 23 years ago, that started with a dream of teaching is the one she proudly announces as of the beginning of this year, "I am the principal of Crete Middle School."
And Sixpence has been an integral part of that journey. Perla and her husband now have three boys, Jacob, Bryan, and Henry Jr. She says that in addition to the immediate assistance she received for her oldest, Henry Jr., "even after I had my other two boys, all those skills and things I learned from Sixpence, I reused again with my younger boys." She also speaks of the sense of community Sixpence provided, "there were other couples like us. It was good to have that support group. We still to this day talk to some of them." Even today, Perla notes that she will reach out to Renn with questions.
Programs like Sixpence then don't just have momentary impact. Like Perla's journey from Mexico to Crete Middle School principal, they echo in the lives they touch, impacting generations and communities, and assisting those who most need it in accessing resources that support their families and bind them locally.
This long-reaching, cyclical process of community building is perhaps best summed up by a family joke that Perla shares. She refers to the birth of Henry Jr., "I was holding him in my arms at my high-school graduation and then he was there when I graduated with my bachelor's degree and then my first master's and my second master's. So we always think it would be cute when he walks across the stage that then I take a picture with him and we kind of see all the graduations playing out." Graduations that play out across a families' history, in part thanks to Sixpence, and the determination of a young woman to achieve her dream.