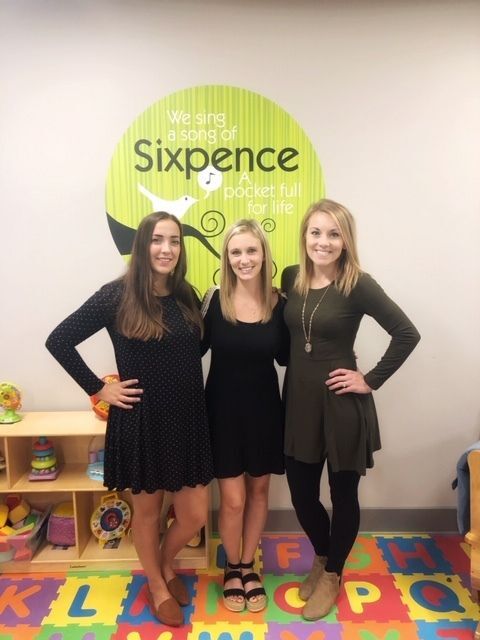 A car seat seems a basic necessity for young families just starting out: a first purchase, a central item on a baby registry, and in Nebraska a law-mandated requirement for leaving the hospital when your child is born. So what's the big deal? Run out to a local store, pick one up, strap it in, and you're good to go, right? A recent car seat check held by Sixpence of Fremont, in coordination with Dodge County Head Start and Three Rivers Health Department, revealed that when it comes to car seats, things aren't as simple as they seem.
The event, held in the parking lot of the The Bridge Domestic Abuse Center on Thursday, September 28, invited members of the local community to have their car-seat installations checked by certified car seat technicians. Participants ranged from a number of Spanish-speaking families to a grandmother who transported her grandkids to school and events. The tenor of the day may have been best captured by a family that had stopped in. Lauren Stoklasa, Program Director of Sixpence Fremont, said the parents both had bachelor's degrees, full-time jobs, and reported, "we feel fully educated and ready for this child, and then we saw how to try and install a car seat. We were at a loss for words; we didn't know what to do." Such uncertainty in the face of changing car seat regulations and the difficulty of ensuring proper installation is one of the reasons Sixpence wanted to hold the event.
Sixpence, which began in Fremont in September of 2013, started as a one-person operation and has grown to three full-time employees who each carry a home-visit caseload of 12 families. As the program has grown, Fremont Sixpence has looked to expand beyond the home visitation and child development the program is known for. As Stoklasa put it, "we try to look at the big picture and see how we can impact not just Sixpence families but all Fremont families." This led to local initiatives, such as the establishment of a diaper bank program in which Sixpence went door-to-door with businesses encouraging "diaper drives." Another program that began a few years ago, was a partnership with Methodist Fremont Health where Sixpence donated 30 car seats and 30 pack-n-plays to the hospital to be given to families identified as "at risk" based on list of risk factors. At the 20-week health check, families who had no car seat or no safe place for a child to sleep were given either a car seat or pack-n-play.
The hospital reported that many families did not have car seats so Sixpence saw an opportunity to extend the success of the collaboration. Stoklasa realized they could continue to impact the community and car seat safety by offering seat checks. Her two Home Coordinators Erin Dostal and Kiersten Elsasser thus went through the rigorous process of National Child Passenger Safety Certification, which required several 8-hour days of training and multiple tests to receive licensure.
For the recent event, Dostal and Elsasser joined with seat technicians from Head Start and Three Rivers to remove each seat, inspect straps for safety, check expiration dates and recall notices, and then reinstall the seat properly while showing the family how to do so. A highly experienced Head Technician, Anita Miller, also reviewed each installation. Sixpence provided a meal for families in attendance and community organizations such as the Early Development Network, Methodist Fremont Health, and Life Choices offered resources while families waited.
The event provided 28 local families the assurance that their children were traveling safely and was met with what Elsasser reports as "a lot of general positivity." Elsasser and Dostal say that past events have drawn only about half that number so this year's seat check was a huge success. The seat check had been promoted by many nonprofit agencies that had strong outreach to Spanish-speaking populations in the area, and Dostal said that even when they could not communicate with families, they were appreciative of the information. "When our translator wasn't available, we communicated using our phones," she said. One attendee responded to the event, "I am very big into car seat safety and still have my 9- and 11-year old in boosters because I know it is the safest. I am so glad we came to the event because it turned out my 2 year old's car seat was not properly installed. Just think about what could have happened if we did not come here? I am so relieved, thank goodness we came!"
One of the big surprises of the day for some families was a free car seat. In some cases, a seat had expired or been recalled and in others there was an older child who needed to be in a seat, which the family was unaware of. Over the course of the day, Sixpence gave out 13 car seats (11 provided by Sixpence and one each provided by the other sponsoring organizations) to families who needed them. Other families got information on when to shift children from rear-facing to forward facing and how long to keep their children in car seats. All families were also shown how to access the instructions for their car seats. Elsasser said, "We just want to know that you're (the families) are driving away as safe as possible."
Stoklasa is proud of the work her seat technicians accomplish and says, "I don't think car-seat technicians get enough praise." She points out that they have in the past gone to the hospital to install car seats for new families; she emphasizes the difficulty of the certification they have obtained; but perhaps her biggest praise comes in her own words, "I have been in this field for 10 years. I still don't feel comfortable putting a car seat in without getting these girls (Elsasser and Dostal) to check it out."